This past weekend at UFC 281, Alex Pereira sprung one of the biggest upsets in some time when he managed to knock out Israel Adesanya, claiming the middleweight title in the process.
It seems likely that the UFC will book an immediate middleweight title rematch between Alex Pereira and Israel Adesanya, so what can 'The Last Stylebender' do to regain his crown?
Adesanya didn't fight badly at all in Madison Square Garden despite suffering defeat, but he could still look to change things up if he wants to beat 'Poatan' in their rematch.
Here are five changes Israel Adesanya needs to make in order to defeat Alex Pereira in a rematch for the UFC middleweight title.
---
#5. Israel Adesanya should take the fight to the ground quicker than he did in the first fight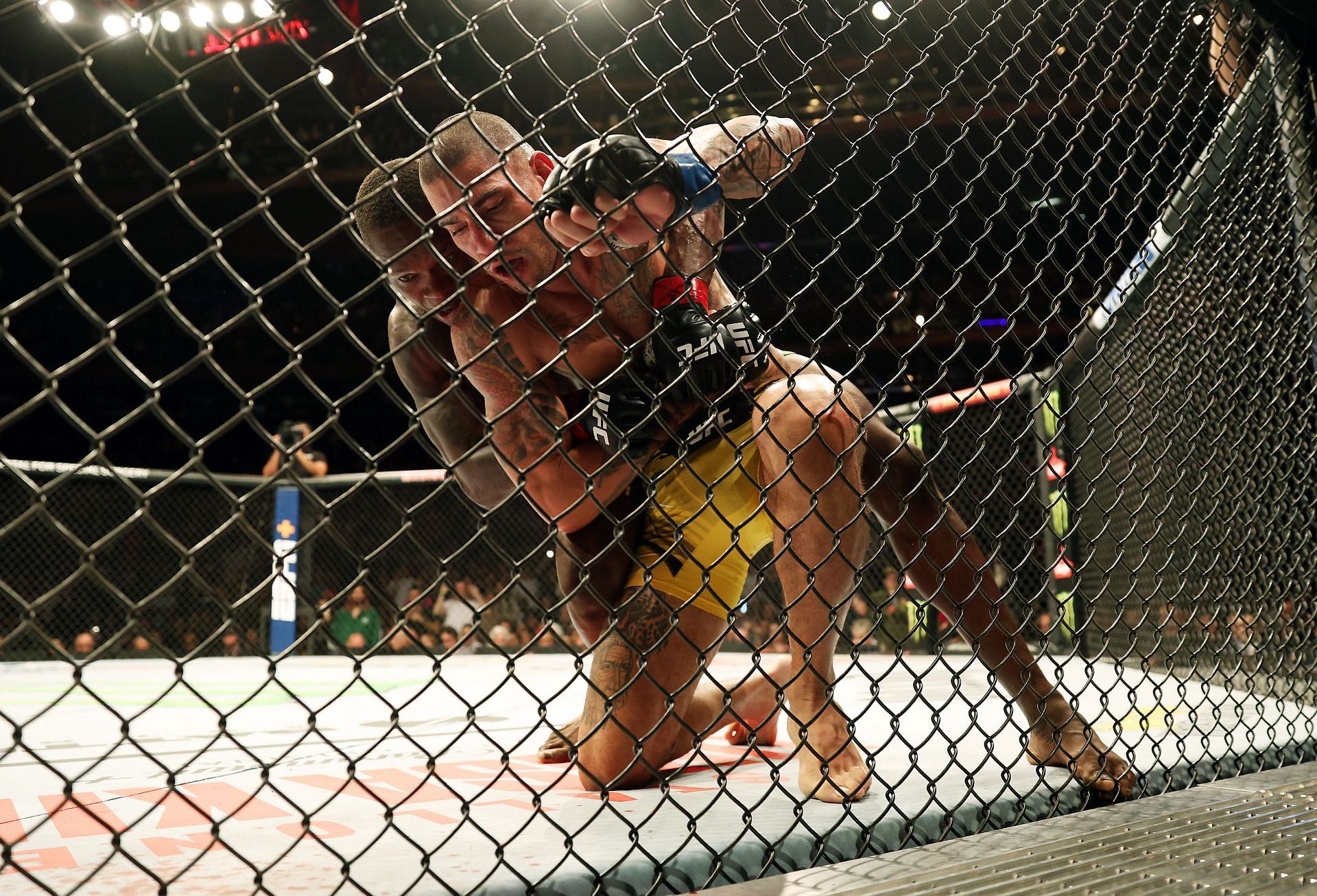 Despite suffering a fifth-round knockout defeat, Israel Adesanya was actually way ahead of Alex Pereira on the scorecards in their recent clash. However, the round in which he was clearly most dominant was the third round.
That stanza saw 'The Last Stylebender' take Pereira down with a throw. From there, he largely controlled 'Poatan' from both back control and from top position in full guard, landing plenty of strikes. By the end of the round, Pereira was clearly tired.
With that considered, one avenue to victory that Adesanya could definitely pursue in their rematch would be to look to secure a takedown in the early going.
Sure, wrestling isn't the strongest area for 'The Last Stylebender' and he clearly isn't a natural grappler per say. However, he didn't find it too difficult to drag Pereira down, and had he looked for it, a rear-naked choke was clearly open for him.
Therefore, Adesanya should probably look to take the Brazilian down as early as he can in their rematch. Even if he can't secure a finish, he could use his positional dominance to wear 'Poatan' down for later in the fight, and secure some valuable points on the scorecards, too.
---
#4. Israel Adesanya should bulk up a little to match Alex Pereira's size and strength
One thing that was immediately noticeable in the recent fight between Israel Adesanya and Alex Pereira was the fact that 'Poatan' was clearly the bigger man inside the octagon, despite both men weighing in under the 185lbs middleweight limit.
Pereira clearly cuts a huge amount of weight to make that limit. So while Adesanya might prefer to stay lean in order to maximise his speed and movement inside the octagon, for a rematch with 'Poatan', it could be a good idea for him to bulk a little.
After all, Adesanya's only other loss in the UFC – his decision defeat at the hands of then-light heavyweight champion Jan Blachowicz in 2021 – came when he was outmuscled by the bigger man.
Pereira didn't outmuscle 'The Last Stylebender', per say, but his size probably added to his punching power, and it may also have allowed him an advantage in the clinch, too.
If Adesanya could nullify that strength advantage, then, it'd give him more areas to work with inside the octagon. More importantly, a little more size could also help his own punching power, making it easier for him to finish 'Poatan' if the opportunity were to arise.
---
#3. Israel Adesanya should not be afraid to fight defensively if the fight goes deep
Prior to his loss to Alex Pereira, Israel Adesanya's UFC middleweight title reign was marked by a number of criticisms for his apparent willingness to fight safely, allowing his defenses against the likes of Marvin Vettori and Jared Cannonier to go the distance rather than look to secure a finish via KO or submission.
Obviously, as he was stopped in the fifth round, we didn't really get to see whether Adesanya would've fought safely in order to reach the end of his clash with Pereira. If the situation arises in their rematch, it's definitely something he ought to do.
Essentially, if the fight goes deep and Adesanya finds himself ahead on the scorecards – as he did this past weekend – then he ought to simply look to reach the final buzzer safely rather than push for a finish.
It might not please the fans – particularly the 'Just Bleed' types who prefer to watch a brawl – but a safer, more dull approach could be the key to 'The Last Stylebender' regaining his title, something that ought to be far more important to him than fan approval.
---
#2. Israel Adesanya should start quickly to push the pace
While Alex Pereira was able to pull off a remarkable fifth-round finish in his recent UFC middleweight title bout with Israel Adesanya, only a blind man would try to claim that as the fight went deeper, 'Poatan' didn't look tired.
Indeed, by the end of the fourth round, Pereira basically looked out of gas, having blown plenty of his cardio by being forced on the defensive in a lengthy grappling sequence in the third round.
It's hardly a surprise that Pereira may not be a cardio machine, as he clearly cuts a lot of weight to make the 185lbs middleweight limit. With that in mind, it's something Adesanya should look to capitalize on.
How could he do this? Simply put, he should probably look to start the fight as quickly as possible and push a torrid pace, forcing Pereira to tire himself out.
Obviously it wouldn't be smart for 'The Last Stylebender' to channel his inner Diego Sanchez and simply charge 'Poatan', but what he could do is actually utilize a more in-and-out gameplan, with plenty of lateral movement and circling in order to force Pereira to chase him, preferably at a pace.
If Adesanya can wear Pereira out early on, the chances of him succumbing to a late knockout should become more slim.
---
#1. Israel Adesanya needs to avoid getting hit cleanly
The biggest key to victory for Israel Adesanya in his likely UFC middleweight title rematch with Alex Pereira is a simple one. He absolutely cannot afford to take clean punches from 'Poatan'.
Not only does Pereira possess a consummate killer instinct, capable of swarming a hurt foe until they're finished, but he also hits arguably harder than any fighter in the middleweight division right now. It's no surprise, of course, that he's the only man to have ever knocked Adesanya out – and he's done it twice, too.
In their recent fight, 'The Last Stylebender' actually did a great job of avoiding Pereira's punches in the early going. Despite being largely outstruck in the second round, he never found himself in any true danger, and really only got hurt by the fifth-round flurry that ended the fight.
That flurry was enabled by an odd moment that saw Adesanya stumble after a checked leg kick. Rather than quickly get out of range, he instead remained static somewhat and allowed Pereira to clinch with him before opening up.
With that considered, while running away is usually deemed a terrible move in the octagon, if Adesanya does get hit cleanly in the rematch, he could do worse than to copy former heavyweight contender Alistair Overeem and simply get as far away from Pereira as he can as quickly as possible, even if that involves a little sprinting.
Basically, no fighter at 185lbs can stand up to Alex Pereira's power shots, Adesanya included – so to win, he cannot afford to eat them.
Denial of responsibility!
TechAzi
is an automatic aggregator around the global media. All the content are available free on Internet. We have just arranged it in one platform for educational purpose only. In each content, the hyperlink to the primary source is specified. All trademarks belong to their rightful owners, all materials to their authors. If you are the owner of the content and do not want us to publish your materials on our website, please contact us by
email – abuse@techiazi.com
. The content will be deleted within 24 hours.