Eden in the East: Riding in Arunachal Pradesh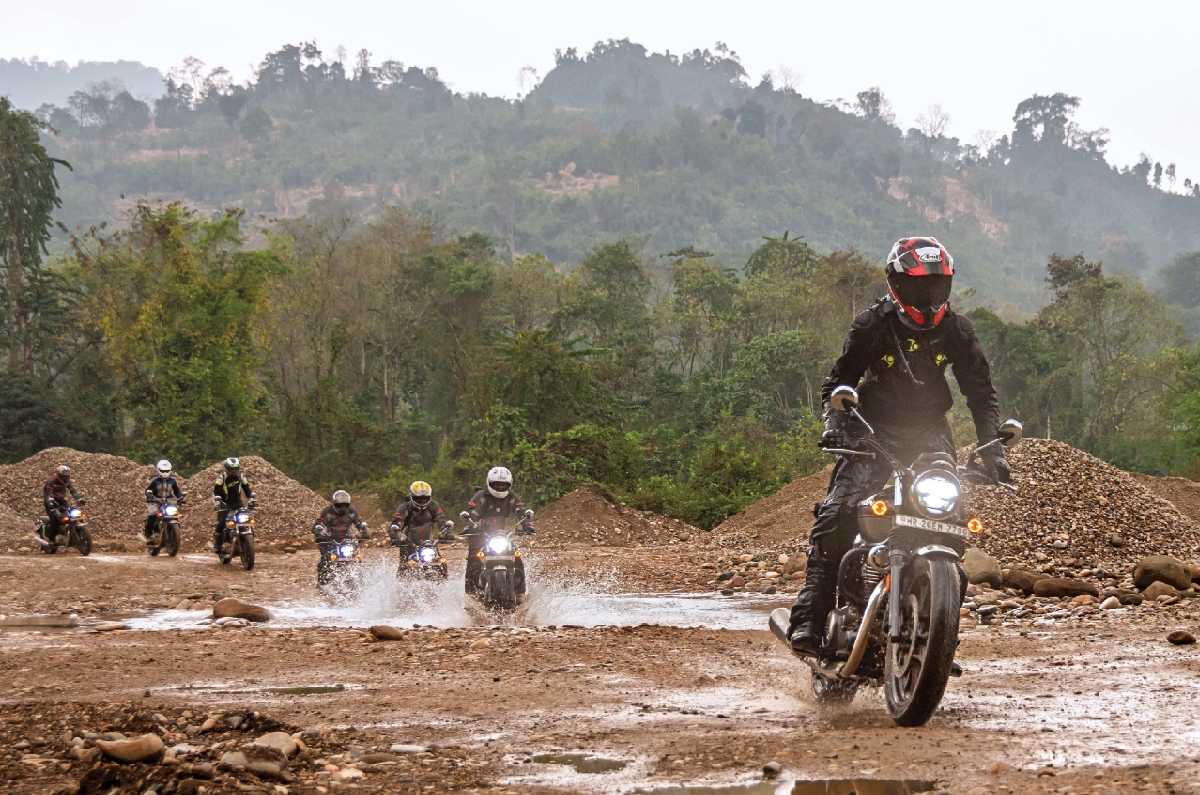 There are many wonderful things to see when you tour this country, especially on two wheels. Breathtaking vistas, isolated landscapes, and phenomenal roads – they're all to be found in the vast nation we call home. However, if you think of it, it's relatively easy to come across one, or even two of these things together; but all three – that's a pretty rare phenomenon, especially when it's for days on end. And, that, is exactly what makes India's easternmost state the riding heaven you never knew of. 
There's two reasons why this ride took place at all. The first was that Honda was keen to showcase that its, er, 'royal' motorcycle could also be a good companion on a long ride through an exotic location. The other is that in recent years, Arunachal Pradesh has become keen to open up to select forms of tourism, including adventure and motorcycle tourism. The state has been quite closed off so far, and just entering it currently requires an Inner Line Permit, although this can be quite easily arranged in numerous places, the Dibrugarh airport in Assam being one. Mind you, that permit will only get you so far, and there are still plenty of restricted areas within Arunachal that will require separate permissions of their own. 
DAY ONE: INITIATION 
Our journey began in Dibrugarh and it was just a couple of hours before we crossed the Bogibeel bridge over the startlingly-wide Brahmaputra. Not long after, we arrived at the state border marked by the small town of Ruksin. Crossing into Arunachal suddenly has the world go a little quieter and it just seems like there's far fewer people around. 
'Exploring' through Google Maps will show you that Arunachal has the darkest shade of green you'll see in our country, something that can only be associated with a general lack of people. For the next five days, traffic would die down to an absolute minimum, to the point that we'd often see just one vehicle every 10 minutes or so. 
Our first day's destination was the beautiful riverside village of Bomjir. I'd been here five years ago for the Orange music festival and recall getting there involved a hair-raising, one-hour-odd drive in the dark across the dry riverbed of the massive Dibang river. Hair-raising because half-way across, we were crossed by a rickety old motorcycle that emerged out of the darkness, a country-rifle slung over its rider's shoulder and a freshly shot deer carcass roped to the back seat – welcome to the wild zone. 
This time around, things were rather different. Instead of fear in the dark, we were greeted by some smooth and spectacular mountain roads with not a pothole in sight. So smooth and fast they were that we reached our destination well before sundown, which happens much earlier in these parts. 
It must have been some sight to see a train of Honda CB350s scraping the life out of their foot pegs as they kept pace with the lead rider on an Africa Twin. The CB has an impressively nimble and neutral chassis, but its painfully tall gearing meant that we were squeezing every last rev out of the long-stroke motor to keep the speeds up. It's certainly not the way this bike is intended to be ridden, but to its credit, it didn't seem to mind.
Massive bridges, like the 6.2km Dibang River Bridge, have opened in the recent years.
This story of impressive roads was to remain a constant for the remainder of our time in the state. In fact, the new Sisseri River bridge at Bomjir is India's second longest, at 6.2km long. Sure, some smaller interior roads could be bad, but all the main highways we rode through were simply magical. Come to think of it, we probably encountered no more than a handful of potholes over five days. 
Of course, much of this is due to the growing threat from our ever-optimistic neighbours to the east and a good road system is vital to supporting a strong line of defence. Speaking of which, we did come across the odd army vehicle, but not to the extent that you'd see up in Ladakh. Perhaps that was because we never went close to the more sensitive border areas like Tawang or Kibithoo. 
Our original itinerary had more mountainous destinations like Walong and Hayuliang, but they were dropped on account of landslides. So, while Arunachal also has Ladakh-style terrain with extreme weather to offer, it wasn't part of this trip. 
DAYS TWO AND THREE: INTO THE WILD 
Day two had us hold base at Bomjir and go out on an exploratory ride up the road towards Hayuliang. Here, we only found more spectacular views, including the mountain road you see on the opening picture of this story. On the third day, however, we were in for a change of scene. This time, we'd be heading to the town of Miao, and then further on into the Namdapha National Park. 
The whole of Arunachal is a biodiversity hotspot, but this tiger reserve is sheer paradise to anyone who loves nature and there are scores of endemic flora and fauna species that call it home. We got special permission to ride fairly deep into the park to reside at a government-run forest lodge. The journey inside was one of the more memorable moments of the trip.
We sometimes asked some pretty unreasonable things of the CB350, but its chassis never once did anything unpredictable.
About half an hour down a slippery, muddy trail through the forest, we arrived at the lodge; perhaps a little faster than we should have, but with filthy motorcycles and big silly grins nevertheless. The CB350 once again showcased that its chassis can happily take on far more abuse than the role it was designed for. Despite things like the intrusive heel shifter, non-switchable ABS and difficult standing ergos (duh!), the CB did a fine job of hammering through the muck. If anything, we need to extend our apologies to all the wildlife that probably wouldn't have appreciated the bike's loud and somewhat synthetic-sounding exhaust note as much as most owners seem to. 
DAY FOUR: BORDER GAMES 
After a beautifully peaceful, mobile network-free day in the park, there was a treat in store for the next day. From Namdapha's forest trails, we blasted through some spectacular roads to the border town of Nampong. With further special permission, we were allowed to climb the road up to Pangsau Pass, right up to the Indo-Myanmar border. 
Pangsau Pass follows the original Stilwell road that was constructed in World War II and named after American General Joseph Stilwell. The story of this route from Ledo, Assam, to Kunming in China is a fascinating one that deserves further reading up on. Essentially, it played a sizeable role in the Asian theatre of WW2. However, thousands of lives were lost in its construction, which involved forging through nearly impenetrable jungle.
Rich and varied cultures in Arunachal, and almost always accompanied by smiling faces.
While some of the original Stilwell road has been reclaimed by the jungle after the war, Pangsau Pass used to be regularly used by the locals right up to the start of the pandemic. Unfortunately, it has been closed to even the locals for over a year now. When it was open, locals from both sides would meet at the market at the top to trade once every 10 days. 
The Pangsau Pass market is now a ghost town, but given their cordial relations with the army on the other side, the forces who guard our border actually let us walk across to see the foundation stone that marks the Pass on the other side. To be able to stand on the top of a Pass and breath in the fresh air on foreign soil with no formal paperwork… that was quite a feeling! 
DAY FIVE: PEACE AND REFLECTION 
The final day of our time in Arunachal was in the town of Namsai where we stayed in a hotel that bordered the beautiful Namsai Golden Pagoda. A quiet evening spent walking the pagoda gardens was the perfect setting to reflect on the greatest hits of the days gone by. 
We only saw a part of Arunachal and I'm longing to come back for more. It's not just the promise of beautiful roads, strange and wonderful foods, or even the warm and welcoming people. What has me hooked is the sense that time has moved a little slower in these parts. The forests appear ancient and all-powerful, and even while you may be on pristine tarmac, the countryside looks like a scene out of a Rambo movie with nothing more than basic bamboo silted houses making up the small villages. The people themselves have a deep-rooted connection to nature and there's a huge number of tribes and communities, each with their own languages and cultures. 
I fully understand the state's desire to feed at the boundless buffet that is tourism, but they also have a massive responsibility to look after what they have. The average Indian tourist, unfortunately, can be a terribly destructive species, something evident in what's left to be found at the more popular spots in Uttarakhand, Jammu and Kashmir, and Himachal. 
It would appear that Arunachal's leadership knows this, because the many honorable ministers we met along the way kept talking about wanting limited, but quality tourism for their state. Isn't it nice to know that motorcycling falls under that umbrella? Honda says it's also considering more events like this for its own customers, here and in other similarly special locations.
Everything you see beyond the barbed wire fence is in Myanmar territory.
If you are sitting at home right now and dreaming up a great motorcycling escape once life finds some sense of normalcy again, add Arunachal Pradesh to your list. It's not the easiest state to get to and it's not the easiest to get around either, but I can tell you from experience, it's worth it.
LAKE OF NO RETURN 
From the top of Pangsau Pass there's a clear view of a lake in the valley on the Myanmar side. Of the many folklore stories that give its name, the most popular is that it holds the remains of multiple allied aircraft from World War II. Legend has it that these planes would be flying in low visibility and be unable to make the climb when the Pangsau peak suddenly emerged ahead. While desperately trying to make an emergency landing in what looked like a flat valley below, they'd end up in the lake instead. True or not, it is a fact that there are many crashed WW2 aircraft lost within the wild jungles of the north east.
Denial of responsibility!
TechAzi
is an automatic aggregator around the global media. All the content are available free on Internet. We have just arranged it in one platform for educational purpose only. In each content, the hyperlink to the primary source is specified. All trademarks belong to their rightful owners, all materials to their authors. If you are the owner of the content and do not want us to publish your materials on our website, please contact us by
email – 

[email protected]
. The content will be deleted within 24 hours.