Winner Takes It All? TVS Young Media Racer Programme report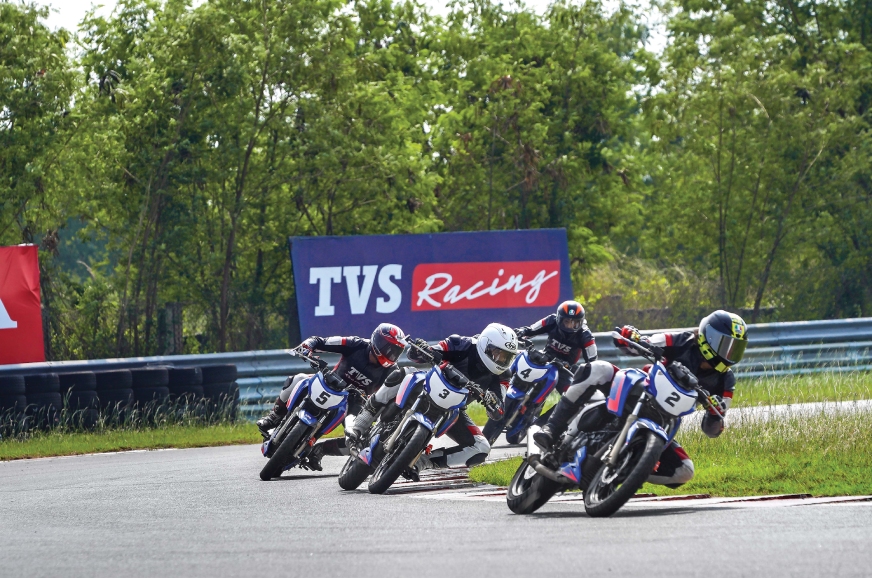 Second place is just the first loser" – it's an aberrant and pessimistic outlook to not winning, but it's an ideology that's at the foundation of my interpretation of competition. And why shouldn't it be? The pleasure of winning has roots in the most basic human drive – survival. 
But, just like early man probably found out with some saber-toothed tiger millennia ago, I understand that you can't always win. A little over a month ago, TVS invited individuals from the media to participate in the Young Media Racer Programme with two back-to-back race weekends. I shall tell you right off the bat that I didn't walk away with the winner's trophy, but I did take away some key pointers on what I did wrong. 
Your mindset matters
The first time I met the rest of the troupe that would participate in the TVS Young Media Racer Programme was at the preliminary qualifying round in November. Over the course of a day, our group of 14 was put through theoretical and on-track sessions that covered the fundamentals of riding on a racetrack. The objective was two-fold. Completing the course would grant you eligibility in applying for a restricted two-wheeler racing license with the FMSCI, and it would also enable you with the skills required to set a decent lap time at the end of the day; the fastest 12 would progress to battle it out for the coveted title of Media Racing Champion. 
The training camp included practice race starts to help us get off the line perfectly.
Considering I had a little more on-track experience than some of the other participants, I felt confident about making the cut, so long as  nothing unforeseen, like a crash, happened. This foolhardy approach also had me thinking, "I just need to qualify; I don't have to give it my all." This, I realised in hindsight, was mistake number one. 
As a result, going fast felt quite unnatural. I knew I had to brake late, get on the gas early and be as precise and consistent as I could, but I was too subconsciously relaxed for all of it to happen intuitively – as it should. 
I finished 6th – 8 seconds off the fastest time. I'd qualified, just like I thought I would, but this got me doubting what I was actually capable of. How many seconds could I have shaved off if I'd been more serious? 
A good start only matters if you could make it past the chequered flag.
Fitness is fundamental 
Mistake number two is one that's slowly crept into my life since the lockdown – a poor diet and a complete lack of any form of physical exercise. Riding a motorcycle can be physically taxing; riding one as fast as you can, far more so. Fortunately, our races were fairly short and the 'Final Lap' board by the pit wall would always urge me on as fatigue started to set in. 
The bikes we were racing on were race-tuned Apache 200 4Vs. These bikes have a racing exhaust, a remapped ECU, and are also devoid of weight that's unnecessary on a racetrack – turn indicators, stands and more. For my 6-foot frame, the bike was a little small, especially when I was tucked in. Being in better shape and a little more flexible would have had me more comfortable on the bike, and for longer. The bigger issue, however, was my weight. 
The hotel rooms TVS had us staying at had a weighing scale each – an almost villainous, but tremendously eye-opening jab at the state I was in. I weighed 30kg more than the little punk (Zaran and I get along just fine, don't worry) who would eventually go on to win the championship. Granted, it didn't come down to just the weight difference and there were times when some riders were better than I was, but I know it played a significant part. 
Fortune favours the brave 
On the first race weekend, I managed to qualify in 2nd place. But, I botched the start and dropped to 3rd before the very first corner. Azaman (who'd moved past me) and I traded places a couple of times in the first lap, but neither of us was making any headway with our attempts. For the next three laps, I tailed him as closely as I could, waiting to capitalise on the slightest of errors. Halfway into the final lap, that opportunity presented itself to me. He ran a little wide and all I had to do was stay on my line to get past him. I crossed the line in 2nd place. 
As you can see, my effort to chase down the leading bunch, didn't exactly go the way I'd have liked it to.
Race 2 brought a change of pace – quite literally, with a couple of riders setting much quicker lap times. I qualified in 3rd this time around. However, I got off the line much quicker than last time and I knew I'd done a good job when I was right on Anis' (who was in 2nd) tail going into the fast, first corner. This flowing right-hander leads onto a sharp right, and you're hard on the brakes as you approach this second corner – it's an overtaking hotspot for the guys that race in the National Championship. I was right behind him and hadn't begun braking as I sensed him slowing down in front of me. It was an opportunity to outbrake him and dive up the inside, but I wasn't decisive enough. Over the next couple of laps, I dropped another position and as I crossed the line in 4th place, I couldn't stop myself from thinking that maybe, I'd have had more of a fighting chance if I'd been a little less of a wuss. Then again, Rishaad points out it's also good to come back home scratch-free! 
Even in defeat
Even in defeat, there is victory. Looking back, I know there's a lot that I could've done differently. But the only thing I can do is learn from the experience and be better equipped for next time. 
In the near-three weeks between the initial qualifying round and the first round of racing, I was, I must admit, impressively strict with my diet. I even got in a little exercise and on race day, that same hotel room scale weighed me at 4kg less than before. I'd like to think that played a little role in what came to be – if only I'd done this over three months instead. 
I also learnt how important it is to keep your head in the game. You may not be the best in the room, but it certainly helps if you believe that you could be. It helps if you're always playing to win, because then, even in defeat, you will find self-assurance in knowing that you gave it your all. 
A P2 and P4 finish in the two races were enough for me to secure 2nd place in the overall championship.
A P2 and P4 finish in the two races were enough for me to finish 2nd in the overall championship. At the end of it, my biggest take was the reminder that racing is serious business and just like with any other sport, it's fundamental that you practice as often as possible. I'm also thrilled that manufacturers like TVS are making it so accessible for people to participate in a proper racing championship. 
You can apply too, and if you qualify, you will get to race the same motorcycles we did, as part of a Novice Championship. It costs just Rs 3,500 per round, which covers the cost of everything except your travel, accommodation and food for the weekend. If you've dreamed of going racing, this is the most affordable opportunity you'll get.
Stay connected with us on social media platform for instant update click here to join our ????️????️ Twitter, & Facebook
We are now on Telegram. Click here to join our channel (@TechiUpdate) and stay updated with the latest Automobile headlines.
For all the latest Automobile News Click Here 
For the latest news and updates, follow us on Google News. 
Also, if you like our efforts, consider sharing this story with your friends, this will encourage us to bring more exciting updates for you.