The Best Audiobooks to Listen to in 2021 (So Far)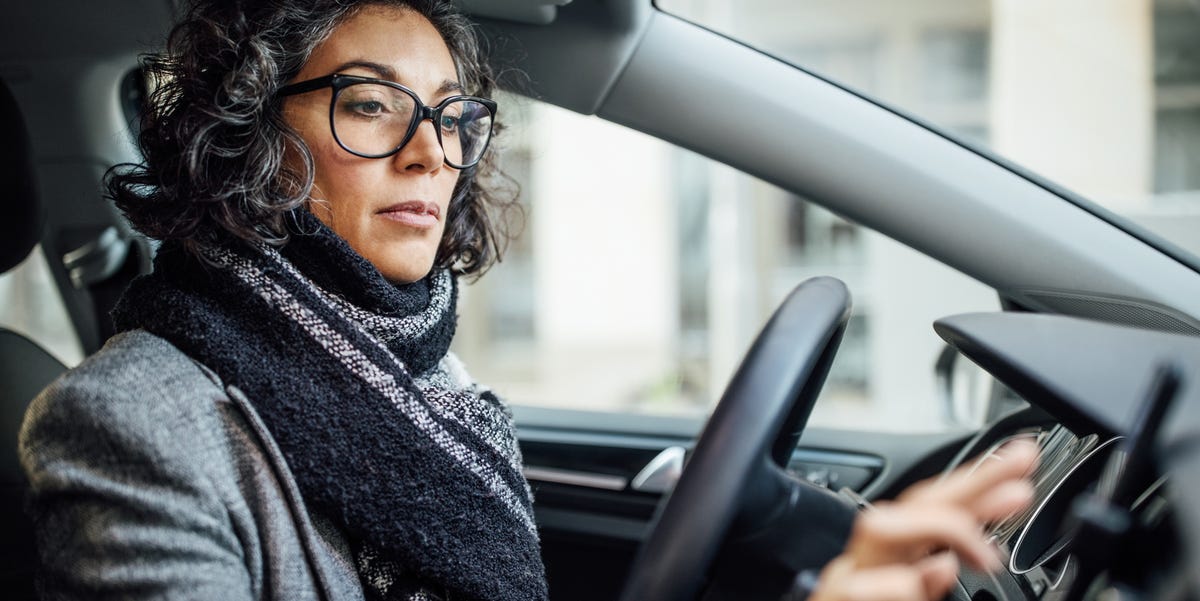 While we'll never give up the pleasure of cracking the spine and turning the pages of a great new book, sometimes the audio version just hits the spot. Think about turning to audiobooks for a hands-free reading experience: when you can't get a seat on your crowded commute, to make the miles fly by on long drives or on family road trips when you need to keep everyone in the car occupied (and not fighting with each other) and you just can't listen to more Kidz Bop. You can take in a great literary classic or the best books of 2021 without turning a single page.
The next time you find yourself in need of a creative way to pass the time, break out one of these awesome audiobooks. (Don't forget to sign up for the Audible free trial using your Amazon account before you go.) Some are recorded with big-name casts full of voices you may recognize, others are just the author or a voice actor sharing the work; some are brand-new, others are classic literary texts reinvigorated through your headphones. The one thing they have in common is that all of them are positively captivating, not to mention guaranteed to make the miles fly.
'Evil Has a Name' by Paul Holes and Jim Clemente
True-crime fans already know all about the Golden State Killer, the notorious serial killer who was the subject of the gripping I'll Be Gone in the Dark. In 2018, the killer was finally arrested, and this audiobook by forensic criminologist Paul Holes and retired FBI profiler Jim Clemente tells the absorbing story of how he was found and caught. 
RELATED: I Survived the Golden State Killer 
'Sabrina & Corina' by Kali Fajardo-Anstine
This stunning collection about Indigenous Latina women living in the Northwest will break your heart open, and the sensitivity and range of the cast that reads them is astounding. Short stories make great audiobooks for dipping into one at a time, so turn to this one if you don't have long stretches to fill. 
'Me: Elton John Official Autobiography' by Elton John
'The Hate U Give' by Angie Thomas
There may be no better time to listen to this sadly relevant story about a young Black man's senseless shooting and how his best friend Starr, who witnesses it, deals with the aftermath. The narration only makes it that much more powerful of a listen for adults and teens alike. 
'Red, White & Royal Blue' by Casey McQuiston
Save this spicy LGBTQ romance for listening when the kids aren't in the car. Press play and escape into a world in which the president's son can fall for his very own prince charming. Who doesn't need to indulge in a little love story now and then? 
'Where the Crawdads Sing' by Delia Owens
Travel to Barkley Cove, where rumors of the mysterious Marsh Girl are all that disturbs the quiet town – that is until Chase Andrews is found dead. Suspicions turn to Kya Clark of Marsh Girl fame, but she's not what she seems. This beautiful story was chosen by Reese Witherspoon's book club, and she says the audible version takes her right back to long, sweltering Tennessee summers. 
'Treasure Island' by Robert Louis Stevenson
If your family has never read the adventure-packed classic, pop this one in on your next road trip. It's narrated by a cast of actors that includes Catherine Tate (The Office), Philip Glenister (Outcast), Owen Teale (Game of Thrones) and Daniel Mays (Atonement) for an exciting listen.
Catch and Kill: Lies, Spies, and a Conspiracy to Protect Predators' by Ronan Farrow
Ronan Farrow won a Pulitzer Prize for breaking the Harvey Weinstein scandal for The New Yorker but the road to publication was a long and rocky one. News and history buffs will love this behind-the-scenes story about how he got his work out into the world — along with the scare tactics, from surveillance to intimidation, employed to try and stop him. 
'One by One' by Ruth Ware
Does getting snowed in at a remote ski resort with your coworkers sound like your worst nightmare? Oh don't worry, it could get so much worse. And it does, in this gripping suspense by mistress of horror Ruth Ware. You'll want to hold your breath all the way to the shocking end. 
'The Baddest Bitch in the Room' by Sophia Chang
Calling all music lovers: Sophia Chang describes how she clawed herself to the top of the music business, from underground hip-hop clubs to record-label board rooms. For younger readers, there's also a less explicit version called the "Inspiring Young Minds" edition, so you can share her story with the little ones without too much of an education. 
'Lincoln in the Bardo' by George Saunders
amazon.com
This one won the 2018 APA Audie Awards for Audiobook of the Year and you can see why: A cast of 166 people come together to perform this historical novel about Abraham Lincoln and his relationship with his son. The roster includes celebs like Julianne Moore, Carrie Brownstein, Lena Dunham, Bradley Whitford, Miranda July, Ben Stiller, Jeff Tweedy and Don Cheadle. 
'The Vanishing Half' by Brit Bennett
Twin sisters raised in a small, Southern Black community run away at 16 and end up taking very different paths. One returns with her daughter years later, the other goes on to live as a white woman, with a husband who knows nothing about her background. It's a story about family and identity that addresses the subject of race in a fresh way that will stick with you. 
'Heads Will Roll' by Kate McKinnon and Emily Lynne
If you've been in Game of Thrones withdrawal, check out this comedic fantasy epic from Saturday Night Live star Kate McKinnon and her real-life sister, Emily Lynne. The 10-episode audio series also features the voice talents of Andrea Martin, Carol Kane, Audra McDonald, Aidy Bryant and Esther Perel, to round out the cast. 
'Sherlock Holmes' by Sir Arthur Conan Doyle
amazon.com
Actor Stephen Fry is an audiobook legend. In addition to voicing the hysterical  Hitchhikers Guide to the Galaxy, he also did his own take on the Harry Potter franchise). This time, he takes on another titan of British literature: Sherlock Holmes. He reads all four novels and five collections of short stories featuring the world's greatest detective in a classic series mystery buffs absolutely can't miss. 
'Know My Name: A Memoir' by Chanel Miller
Listening to Chanel Miller tell her own story of how she was assaulted by Brock Turner in 2015 and the aftermath is even more powerful than the print book. Hearing her become emotional during this devastating story's more difficult moments will move you too, and it's well worth a listen. 
'Lafayette in the Somewhat United States' by Sarah Vowell
amazon.com
This humorous biography of Revolutionary War hero Marquis de Lafayette is narrated by an all-star, A-team lineup of comedians, including Patton Oswalt, Fred Armisen, John Hodgeman and Nick Offerman. It's still on Amazon's bestseller list for audiobooks, even though it came out in 2015. Even if you aren't a history person, this one is worth your time. 
Talking to Strangers' by Malcolm Gladwell
This immersive version of Gladwell's book explores the ways our approach to strangers can invite conflict. It features the voices of the criminologists, scientists, and military psychologists Gladwell interviewed for the book, as well as reenactments of court transcripts and even audio from the contentious arrest of Sandra Bland. 
'A Portrait of the Artist as a Young Man' by James Joyce
Let's be honest: James Joyce probably isn't first on most people's list of favorites. But Colin Farrell as narrator might just give you the push you need. Go ahead, get you some culture. 
RELATED: 20 New Fall Books You Have to Read This Season
'At Home: A Short History of Private Life' by Bill Bryson
With so many of us spending a lot more time at home these days, you may have found yourself thinking more about your own house and how it came to be the way that it is. This comforting book delves into the history behind our habitat and habits that may make you look at your own surroundings in a new way.
'Angels in America' by Tony Kushner
If you didn't snag a ticket to the National Theatre's production of Tony Kushner's Pulitzer-winning play, we've got the next best thing. This recording was made by the full cast, which includes Andrew Garfield, Nathan Lane, Lee Pace, Bobby Cannavale and Edie Falco, so you can close your eyes and feel like you're there. 
The 'Harry Potter' Series by J.K. Rowling
amazon.com
Harry Potter needs no introduction, but the audiobook can be a great way to start kids off on the series. British actor Jim Dale's whimsical take on each of the characters' voices give the story a renewed sense of wonder, so you'll fall even more in love with all of your favorite Hogwarts inhabitants. 
RELATED: 30 Magical Harry Potter Gift Ideas for Your Favorite Potterhead 
'Lock In' by John Scalzi
amazon.com
In this sci-fi thriller, FBI detective Chris Shane's consciousness  jumps between machines. And because Shane is therefore genderless, readers can fill in that information for themselves. You can listen to the book narrated by Amber Benson, or the version read by Wil Wheaton, depending on your preferred experience.
'Such a Fun Age' by Kiley Reid
A story about racial profiling, privilege, and identity doesn't sound like much fun. But trust us, the audible version of one of this year's hottest new titles is so much more exciting than it sounds. Tune in for a new kind of social justice story. 
'Love in the Time of Cholera' by Gabriel García Márquez
Fall for this timeless tale of love and devotion all over again by listening to the audiobook. It's also available in Spanish, for non-English speakers or those who want to brush up on their language skills in a more interesting way. 
'Stone Mattress' by Margaret Atwood
amazon.com
Fans of The Handmaid's Tale will want to try Stone Mattress, a series of short stories by author Margaret Atwood. Because each story has its own narrator, readers range from Catastrophe's Rob Delaney to The Young and the Restless star Lorna Raver. Atwood herself narrates the last one, to top it all off. 
'Bird Box' by Josh Malerman
amazon.com
If you saw Bird Box when it was released as a Netflix movie,  you know there's something terrifying about not being able to look at the horrors outside. The story is all about sound, so it makes perfect sense as an audiobook. It really drives home how the things we hear have so much more power to scare us than those we see.
'Homegoing' by Yaa Gyasi
Winner of an Audie Award for literary fiction in 2018, this beautiful novel traces two branches of a family tree over 300 years, from Ghana to the United States, through slavery and modern-day struggles. It drives home the legacy of captivity in our country and our world in a way that makes history feel staggeringly present.
'Becoming' by Michelle Obama
'A Game of Thrones: A Song of Ice and Fire' by George R.R. Martin
amazon.com
Lots of audiobooks have won awards, but this one has also broken records: It won a spot in the Guinness World Records for the "most character voices in an audiobook." If you're counting, that's 224 characters to be exact. According to the record, Roy Doltrice gives each of them a "distinct and distinguishable" voice, a real feat for any actor.  
'A Long Petal of the Sea: A Novel' by Isabel Allende
This epic tale of love triumphing over adversity follows two young refugees fleeing the Spanish Civil War aboard a boat chartered by poet Pablo Neruda. Whether you're a longtime fan of Allende's heartstring-tugging novels or coming to her for the first time, this one is a beautiful escape into someone else's story. 
'Stay Sexy & Don't Get Murdered' by Karen Kilgariff and Georgia Hardstark
If you love the true crime comedy podcast My Favorite Murder, hosted by Georgia Hardstark and Karen Kilgariff, you'll also get into their joint memoir. In it, they offer raw takes on their personal stories mixed with some true-crime tales. The book also has that special blend of honesty and humor that makes their podcast such a hit. 
'To Kill a Mockingbird' by Harper Lee
amazon.com
Actress Sissy Spacek narrates this classic novel with an unfussy and confident style that lets Harper Lee's story shine through. She doesn't need to rely on a bunch of gimmick voices and accents when the source material gives her so much to work with. 
'The Glass Hotel' by Emily St. John Mandel
What does the collapse of a massive Ponzi scheme have to do with a woman mysteriously disappearing from a ship between ports of call? You'll just have to tune into this masterful audiobook from the author of Station Eleven. 
'The Graveyard Book' by Neil Gaiman
amazon.com
This spooky tale follows the story of Nobody Owens, known to his friends as Bod. He lives in a graveyard and is being raised by ghosts and ghouls, for a story that will send chills crawling up your spine. A whole band of actors, including Fleabag's Andrew Scott and Gladiator's Derek Jacobi, bring the story to life in a wonderfully robust way. 
'Born a Crime: Stories From a South African Childhood' by Trevor Noah
The Daily Show host and comedian Trevor Noah grew up in South Africa under apartheid, and his stories from that time vacillate between hilarious and poignant. Noah's masterful switching between English, Xhosa, and Zulu in voicing his memoir earned him an Audie Award for Best Male Narrator in 2018. 
'Bad Blood' by John Carreyrou
amazon.com
You could hardly miss the salacious story of biotech startup Theranos and the staggering frauds masterminded by its founder, Elizabeth Holmes. This book by Wall Street Journal reporter John Carreyrou takes you even deeper into the jaw-dropping scandal than HBO's documentary. 
'The Great Gatsby' by F. Scott Fitzgerald
amazon.com
If you haven't read this classic since high school, let Jake Gyllenhaal's narration help you fall back in love with it. The jazz age never sounded so good. And if your kids have to read it for school, listening will give them a different perspective than the page.  
'Angela's Ashes' by Frank McCourt
amazon.com
The best memoir helps readers hear the author's voice in the story, and audiobooks let you do that literally. In this heartstring-tugging audiobook, Frank McCourt reads his stirring memoir of growing up in poverty in Ireland. Fair warning: Grab some tissues before you press play. 
'The Nickel Boys' by Colson Whitehead
Tune in to this 2020 Pulitzer Prize winner to hear the harrowing story of Elwood, a young Black boy unjustly sentenced to a violent reform school  in Florida. As Elwood befriends a fellow student in his struggle to survive, their actions have long ramifications that echo through the decades. 
'Aristotle and Dante Discover the Secrets of the Universe' by Benjamin Alire Sáenz
amazon.com
Two loner teens Aristotle and Dante couldn't be more different, and that's part of what brings them together. The unlikely match form a deep and lasting friendship in this coming-of-age novel your tweens will adore. Hamilton creator and Mary Poppins Returns star Lin-Manuel Miranda narrates this one, so you know the voice work is stellar.
'The Dutch House: A Novel' Ann Patchett
If there's a better voice for the latest Patchett novel than Tom Hanks, we've never heard it. This moving story explores the bonds between siblings, the meaning of home, and how much our past influences who we become. 
'The Adventures of Tom Sawyer' by Mark Twain
"Being paid to perform such a gratifying activity as reading Mark Twain aloud felt powerfully akin to Tom Sawyer hoodwinking other boys into paying him for the privilege of whitewashing a fence. Let's keep that between us," said Nick Offerman, about narrating The Adventures of Tom Sawyer for this audiobook. Need we say more? 
'Me Talk Pretty One Day' by David Sedaris
amazon.com
True confession time: I once laughed so hard while listening to David Sedaris that I nearly fell off a treadmill. So take care when you turn on this hysterical audiobook that features Sedaris moving to France and butchering the language, among other too-funny tales. 
'Educated' by Tara Westover
amazon.com
This smash hit memoir by Tara Westover is all about her upbringing as part of a survivalist family in Idaho, followed by her uphill struggle to get an education that finally culminates in a PhD at Cambridge University. Once you listen to actress Julia Whelan bring it to life, you'll understand why it's so critically acclaimed.
'Elizabeth II: Life of a Monarch' by Ruth Cowen
audible.com
Just about everyone's fascinated with the British monarchy, in all of If you finished Netflix's The Crown and still crave your royal history fix, press play on this one. It covers Queen Elizabeth II's whole life — all the way from her birth and the ascension of her father to the throne and even the modernization of the royal family. 
This content is created and maintained by a third party, and imported onto this page to help users provide their email addresses. You may be able to find more information about this and similar content at piano.io
Stay connected with us on social media platform for instant update click here to join our  Twitter, & Facebook
We are now on Telegram. Click here to join our channel (@TechiUpdate) and stay updated with the latest Technology headlines.
For all the latest Life Style News Click Here 
 For the latest news and updates, follow us on Google News. 
Denial of responsibility!
TechAzi
is an automatic aggregator around the global media. All the content are available free on Internet. We have just arranged it in one platform for educational purpose only. In each content, the hyperlink to the primary source is specified. All trademarks belong to their rightful owners, all materials to their authors. If you are the owner of the content and do not want us to publish your materials on our website, please contact us by
email – 

[email protected]
. The content will be deleted within 24 hours.