The Best Android Emulator in 2020: MSI App Player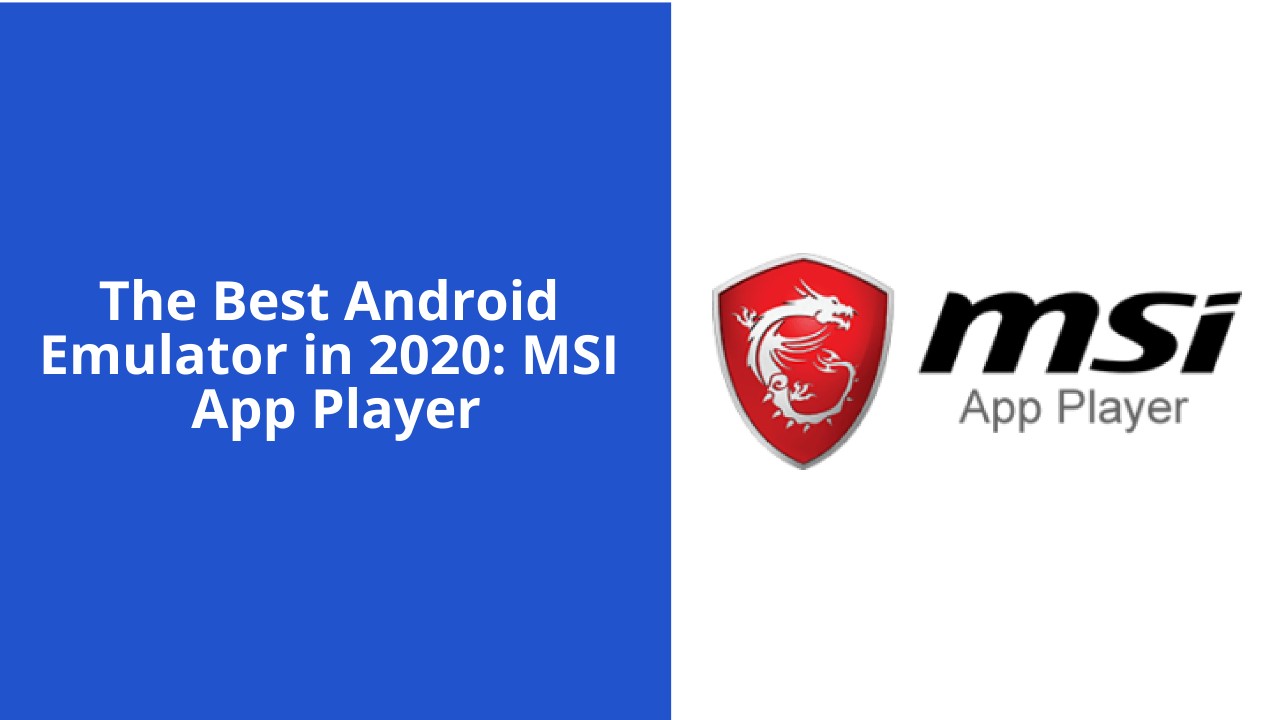 In the form of an MSI App player, Micro-Star International (MSI) has just launched its own dedicated Android emulator on a PC. To make this project a success, the company has collaborated with the well-known Android emulator maker, Bluestacks.
Today I am going to write about the top 10 features of MSI App Player which make it better from other emulators. So let's get started.
MSI App Player's Top 10 Features
An obsessed gamer will still find a way through all of his gadgets to enjoy his favourite games. MSI App Player is a good emulator for Android that lets you play lag-free Android games on your PC. It's a very impressive app, and we're going to look at its major characteristics. To run this emulator, however, you will require an MSI machine, which looks like a modified version of the popular BlueStacks emulator.
The MSI App Player is developed to partner exclusively with BlueStacks. It is the most sophisticated emulator, supporting cutting-edge graphics and technology, the developer says. Also, MSI App Player is intended to provide MSI gaming laptop users with a smooth gaming experience.
1. Capability of 240 FPS
To a gamer, 240 FPS "Frames Per Second" means a lot. The higher the FPS enabled by your PC, the more you can enjoy smooth gameplay. The MSI Software Player, which can run 240FPS games on a compatible computer device (laptop or desktop), is fascinating. For staunch gamers, this is definitely a wonderful feature.
2. Allows to use on Non-MSI PC
The MSI App Player is not limited to MSI computers only; at least no update has been released by the company. So, the MSI App Player can be downloaded and run on your compatible gaming PC.
However, for running the MSI App Player on your PC, here are the minimum device requirements: You will need a minimum of 2 GB of RAM, 4 GB of usable ROM, Direct X 9.0, and .NET Platform 3.5.
3. It is available for both 32 bit and 64 bit PC
The MSI Software Player is available for all processor models and runs smoothly with the recommended device tools, regardless of whether your PC is operating on a 32 or 64-bit system architecture. Plus, Windows OS 10, 8, 7 and even Windows XP are compatible with the software.
4. Latest version of Android is installed: Android 9
Interestingly, this Android emulator comes pre-installed for Android 9.0 (Nougat). This means that the gamer is going to enjoy playing a lot of fun, modern games enabled by the update of Android 9.0 OS. This includes PUBG, Fortnite, C.O.D, FreeFire et cetera games.
5. Zero Lags while playing Games
The 240fps support makes it easy to smoothly play any game of your choosing. This software also comes with practically everything present on the bluestack emulation software; thus, it helps you to play games without any kind of latency.
6. It supports more than 1 Million Apps
With this app, you can get to enjoy your favorite mobile games as it has support for a wide range of applications and games for Android. Now, using a keyboard and mouse for smoother experiences, you can conveniently run your smartphone applications on a device.
7. Multi-Screen Support
The multi-screen function is provided by the MSI App Player, meaning that users can run more than one instance of an app or game consecutively. This role, however, involves numerous accounts.
8. Uninterrupted experience of Smartphone gaming on a PC
The MSI App Player gives its users an uninterrupted mobile gaming experience. PC owners can easily play Android games with the MSI app player, or run applications smoothly on the mouse and keyboard of their PC.
9. User-Friendly Interface
In comparison, an intuitive interface flaunts the MSI app player that is easy to read and understand by everyone. The main window is well built at the moment to run numerous games and applications. Even, from the app window, one can quickly navigate the menus.
10. Easy to use settings
There are multiple customizable settings for customizing how the games and applications should be run by the MSI App Player. You will customize the player window to fit your gaming tastes, from the timer settings to the gui appearance.
Consolation
For smartphone users who want to run their applications and games on computers for a smoother experience, the MSI app player is a realistic alternative. With no (completely) modern technologies, it is not planned. Instead, with some fun gameplay features, the MSI app player is just another clone of Bluestack.